A plan that works
Tuesday October 23, 2012

Buying a home is a simple process on paper. Shortlist the contenders based upon your preferences, then follow that up with a viewing to pick the winner.  Yet, what seems simple in theory, quickly becomes a real-life comprehension test of epic proportions.  You've seen the movie -- the client walks in, falls in love with the home, embraces the sales person.  Cut scene to where they are hammering a sold sign into a front lawn with daisies growing wild and free. 
Hasten the day when this becomes reality! 
Right now, for those of us who do not live in Hollywood, the home buying process is anything but simple.
Sure, the economic considerations are important, and variables such as location, price and resale value should be given a front row seat.  They are measurable, and tried and tested yardsticks. But these practicalities are often only the primer for your canvas. 
You see, buying a home is, at its core, an emotional experience.  It is in our DNA to want a place where we can build a nest and feel secure.  Our new home has to 'feel' right, harmonising with all our senses. It has to 'flow' right, with interconnected spaces that are in step with the way we move and spend our time. There are a myriad of subjective reasons why we eventually say, "yes, I'll live here".

Selling the unseen
Casting a home in favourable light is one thing, but how do you sell a property that does not yet exist?  More to the point, how can a property developer best show off the homes he is planning to a potential purchaser?  In the absence of a physical structure that can be seen or felt, what is the best pathway to showcase off-plan property?
Show them a plan.  Now, before you say, "no sugar, Sherlock", we are not talking about any old monotone CAD file on white paper or a diagrammatic sketch.  No, you require a floor plan that is intuitively familiar and encompasses the entire structure.  Most of all, it needs to be eye pleasing and connect on an emotional level.  Remember, your prospective buyers won't be living in technically-correct-line-drawing world, rather, they are looking for a warm and inviting home.  
Says Nick Olivier, the Cape Town lead of trend-setting architectural practice Starkey Olivier (SOA) :
A modeled 3-dimensional presentation of a residential unit has numerous advantages to a traditional 2-dimensional alternative.  It allows the viewer or buyer to easily recognise the spatial relationships between various parts of the building, which potentially include open plan volumes and links between primary living spaces.  The ingress of natural light into the interior spaces can also be readily grasped, as well as allowing for a better understanding of how a space may be used in terms of furniture and finishing.  Naturally, a 3-dimensional portrayal also aids the representation of any architectural elements and the overall aesthetic of the structure or scheme.
Practical examples
Although there are many levels of detail at which these plans can be generated, we have chosen a mid-range, inexpensive example to illustrate the visual benefits: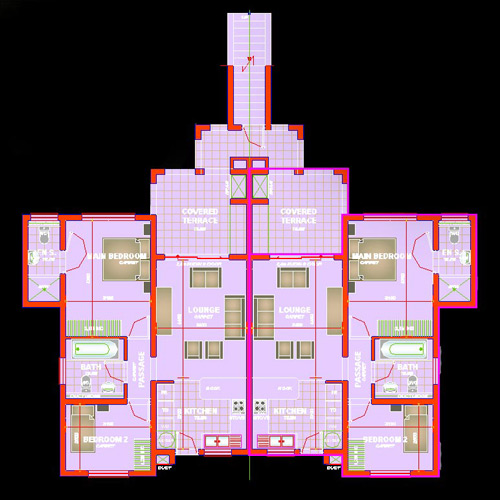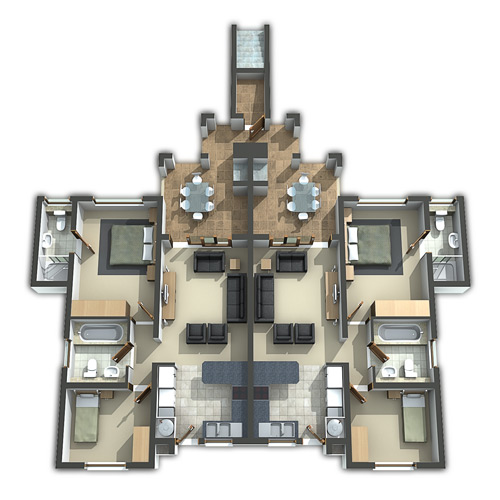 Whilst nothing beats the real thing, a simple 3D floor plan rendering can show dimensionality, space and texture in ways that design files cannot.  It connects emotionally with the viewer, and gives them an opportunity to make a well informed home buying decision. If you are adding 3D perspective renderings or artists' impressions to your marketing material, ensure that you link them in situ with your floor plan overview.  This would make it possible for your online viewers to click on a room and experience it in greater detail.