HelloHouse now displays unit information
Tuesday May 21, 2013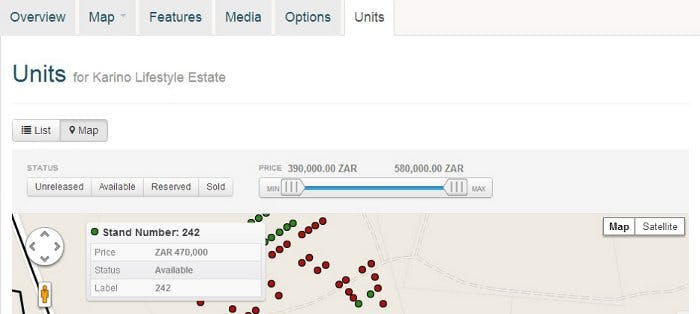 HelloHouse, our residential development portal, continues to receive plenty of R&D from our programmers in an effort to ensure we are providing home-hunters with the best, most up-to-date information. Our desire is for our clients to be armed with an arsenal of relevant information so that they can confidently contact the developer to arrange a viewing and take the relevant next step in purchasing their dream home. 
We are proud to announce that we now display unit data on HelloHouse. This will allow us to take our portal to the next level by enabling clients to enquire on specific units of interest.
Karino Lifestyle Estate in Mpumalanga, is our first development to go live with units on HelloHouse, and we are very pleased with the rich data we were able to add to their listing. This truly is a wonderful development and the map view of the units displayed on HelloHouse allows potential home buyers to choose units of interest and view these units in a geographical context. Over the next few days, I'll be writing more about the efficiency of the unit management process, but from a client perspective we can now ensure that unit data is never out of date. We are confident that this will minimise frustration for our HelloHouse clients whilst keeping the process hassle-free for our property developers.
In a nutshell, units on HelloHouse will allow potential buyers to acquire the following information:
Sort and view units by status i.e. unreleased, available, sold or reserved
Sort units by price and select units within a particular price bracket
See which units are available in which phase
See units on a map* according to their status
Click units on a map to learn unit information
Enquire about a specific unit of interest
To find out more about how you can have units displayed on your HelloHouse listing, please contact us.
Our next blog post will include a video showing you how easy it is to upload your unit data, so check back soon.
*Property Developers can choose to have units displayed via list and map view, or only via list view.