Our Faces in Print
Thursday December 20, 2012
A couple of weeks back we opened to the Weekend Argus to find our shining faces smiling back at us. We were interviewed about HelloHouse and the benefits of listing on the portal and the article appeared in print soon after. Despite the fact that our team looks less than flattering, we are secretly proud to have made the cut. In case you missed it, we've included the text below: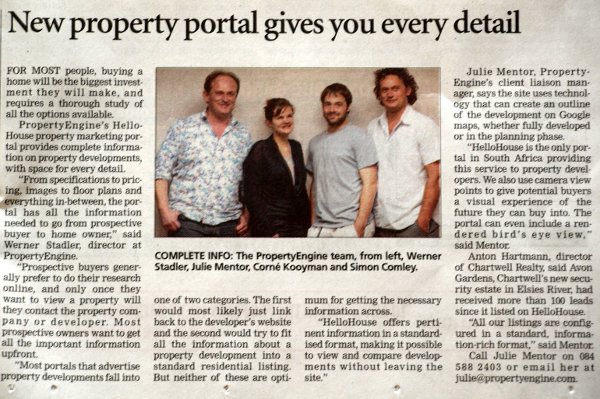 New property portal gives you every detail
For most people, buying a home will be the biggest investment they will make and requires a thorough study of all the options available. PropertyEngine's HelloHouse property marketing portal provides complete information on property developments, with space for every detail.
"From specifications to pricing, images to floor plans and everything in-between, the portal has all the information needed to go from prospective buyer to home owner." said Werner Stadler, director at PropertyEngine. "Prospective buyers generally prefer to do their research online, and only once they want to view a property will they contact the property company or developer. Most prospective owners want to get all the important information upfront. Most portals that advertise property developments fall into one of two categories. The first would most likely just link back to the developer's website and the second would try to fit all the information about a property development into a standard residential listing. But neither of these are optimum for getting the necessary information across. HelloHouse offers pertinent information in a standardised format, making it possible to view and compare developments without leaving the site".
Julie Mentor, Properly Engine's client liaison manager says the site uses technology that can create an outline of the development on Google maps, whether fully developed or in the planning phase. "HelloHouse is the only portal in South Africa providing this service to property developers. We also use camera view points to give potential buyers a visual experience of the future they can buy into. The portal can even include a rendered bird's eye view", said Mentor.
Anton Hartmann, director of Chartwell Realty said Avon Gardens, Chartwell's new security estate in Elsies River, had received more than 100 leads since it listed on HelloHouse. "All our listings are configured in a standard, information-rich format," said Mentor.