Strategy Four: On the Map
Tuesday October 23, 2012

Where stuff is and why has always been important, but nowhere more so than when searching for the ideal location to live. And that is the crux of the matter : people are going to live there.  Not visit it and later leave, but spend the next few years making it their home.
Whilst potential buyers are increasingly getting the first glance of their new home on a map, the use of online spatial technologies is set for significant growth and improvement.  It is easy to forget that Google Maps did not exist seven years ago, and, together with rivals Bing, have exposed online users to a brave new world in a comparatively short space of time.
Once the realm of mapping professionals and cartographers only, these platforms have now brought Geographic Information Systems (GIS) within easy reach of the everyday web surfer.  In years gone by, maps displayed online were often viewed as a non-essential luxury, but are now rapidly progressing to the main stage, front and center.
The future of interactive mapping within the real estate industry holds much promise.  Judging by current trends, users would like to use a map that visually answers questions relevant to their decision making process.  They want to select and display various layers of information, combining them to fuel their voyage of discovery, especially if they are considering purchasing in a geographic area they are not familiar with.  A good example would be : "Show me all available three bedroomed properties within a 10km radius of secondary schools and major shopping centres, super-imposed over the past three years' crime statistics".
These are meaningful questions, and there is no better solution than a map combining time and space into an immediately apparent answer.
So, have you put any effort into providing your website visitors with intuitive mapping tools? Here are a few foundational pointers to get you started:
It is time to venture beyond points and markers.  Your property has a boundary, and so do the units it contains.  Showing only the geographic centrepoint of a development does not tell the entire story.
Selling an estate, or a cluster of properties, requires a unique approach when compared to the marketing of stand alone homes.  Not only does your development location have a bearing upon its marketability, but so also does the unique positioning of every unit within the development.
From this flows the need to provide spatial context.  Show home buyers how their unit is positioned with easy access to amenities on the estate.  If applicable, use it as an opportunity to emphasise the self-contained nature of your offering, and the advantages of having access to all these features and facilities.
Users want to, and expect to, interact with the data linked to your properties.  Make it easy for them to customise their search criteria and find what they are looking for.   Static maps are just pretty pictures, but an interactive map provides the ideal platform from which to draw their own conclusions.  This self-led journey of discovery is becoming increasingly desirable, as the results are perceived as credible, believable, and more compelling than marketing hype.
If you are selling off-plan units, it adds tremendous value to include a rendered Masterplan as an overlay upon your map.  This makes it possible for potential homeowners to envision what your development would look like once it has been completed, and understand where they will "fit in".  The before and after images below illustrate how a birds-eye-view communicates the development layout with clarity, even where no ground has been broken.
An example of what an estate would normally look like on GoogleEarth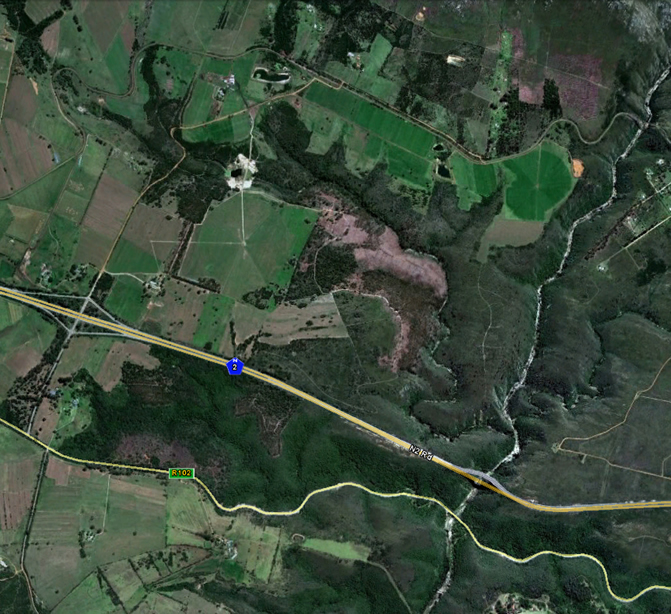 A map also provides a central repository where all your media can be housed. Images, videos and other marketing materials find their "rightful place" when linked to an on-the-ground location.
Do not underestimate the desire of your visitors to create their own geodata.  Even mobile users are geotagging images, whilst social networks are offering increasingly sophisticated means to let the world know exactly where you are, who is there with you and what you are looking at.  Allowing interested parties to select and tag their favourite units would be a simple starting point.
Finally, remember that good maps will keep your visitors deeply engaged, and keep them coming back!